Developments towards NeuroML version 2.0 are well under way, but version 1.8.x should be considered the stable version for now, especially for application/model developers who want maximum compatibility with other tools.
For details of the meetings which have taken place to date where NeuroML v2.0 has been discussed see here.
The NeuroML schema, examples and libraries have undergone major changes recently for the NeuroML v2.0 beta release, including a shift of most code development to individual GitHub repositories.

For the very latest details see here.
NeuroML v2beta Schema
A draft specification for NeuroML v2beta has been created. The working structure of NeuroML v2beta is defined by a single XML Schema file: NeuroML_v2beta.xsd.
Most of the work listed below aims to handle XML files valid according to this schema. This should be the target structure for anyone wishing to implement NeuroML 2 support at this stage.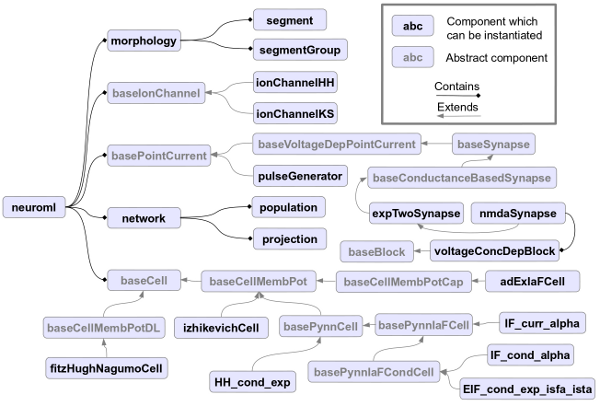 This image shows some of the elements currently defined in NeuroML v2beta. The overall structure is similar to NeuroML version 1.x Level 3 (see figures 4-6 here). Note that there are a greater range of cell models supported (e.g. Izhikevich spiking cell, adaptive exponential integrate & fire) in addition to the multicompartmental conductance based models which were a focus of version 1.x.
Examples of NeuroML 2 files using this schema are available here: